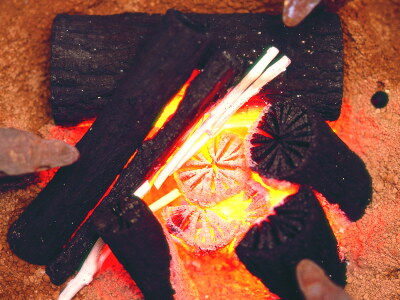 アメリカでも暖炉が木を使わずガスや電気になっている家庭が多いのですが、不思議なことにバーベキューとなれば裏庭で炭焼きをするのが夏の行事の定番です。炭と言えば、お茶でつかう炭の魅力につき面白いことを読みかじりました。
Nowadays many households in the United States use gas or electric fireplaces, rather than wood.  Nevertheless, backyard barbecue with charcoal is one of the popular activities every summer.  What about charcoals for tea?  Here is an interesting passage that I ran into.
お茶では釜の煮え音を松風に喩えます … [中略]。たかが煮え音と思われるかもしれませんが、茶事というものは結局、この釜の煮え音と聴きながら進行していくもの、ともいえそうです。合理一辺倒で考えますと、はじめからしまいまで電気で煮やしておくとよいように思われますけども、それではいかにも味気ない。炭をして煮えがつき、釜の煮え音が高まるところから、だんだん煮えが落ちていくところまでを感じ取るというのが、大切なお茶の楽しみ方でございます。

The sound of a boiling pot is euphemistically called "pine wind" (matsukaze). You may think it is only the sound of boiling water.  Nevertheless, we can safely say, after all, that chaji is something that proceeds while we listen to the sound of the boiling pot.  From the efficiency perspective, it would be better to keep the pot boiling with an electric element from beginning to end, but that is so joyless.  We light the charcoals, and the pot is boiling.  The sound of boiling reaches its peak, and then gradually goes quiet.  Sensing that transition is an important part of enjoying chanoyu.
「宗心茶話」(堀内宗心)世界文化社 2010
Originally published September 16, 2015